My last post discussed the pros and cons of the most common pubic hairstyles.  As promised, now I will discuss four less common styles.  To be honest, these are all more or less variations of the landing strip, but some require a bit more time & patience to create and maintain.  I won't be discussing the pros and cons in depth, since they are all fairly similar to the landing strip.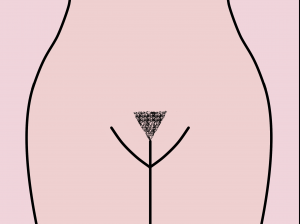 The triangle is somewhere between a bikini trim and a landing strip.  It has the same general shape as a bikini line trim, but like the landing strip, all the hair on your labia is removed.  This is a good style if you have a bathing suit that covers more than a thong, but is revealing enough that a simple bikini line trim wouldn't keep your hair out of sight.  It's also a good beginner style if you still want to leave some hair down there – if you mess up and make the sides uneven, you can easily trim it down to a landing strip and try again next time!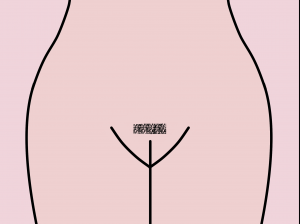 The Chaplin is really just a landing strip turned sideways!  It kind of looks like a little mustache.  (More specifically, Charlie Chaplin's mustache.)  This pubic hairstyle works well if you like to wear low-rise jeans.  A landing strip or other "tall" style might peek out over your pants, but the Chaplin will ride low, under the radar.  Your significant other will also look like they have a mustache when they go downtown, which may be a plus or a minus depending on whether you like that look. 😉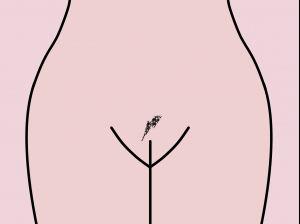 This one is for all the heavy metal and/or Harry Potter fans out there.  I don't know if there are any particular benefits to this style besides impressing anyone who sees it.  The lightning bolt definitely takes more time than the previously mentioned pubic hair styles, but it is still quite doable! You can easily make a lightning bolt with a stencil kit.
[amazon_template template="1″ id="B001DYMK7S" ]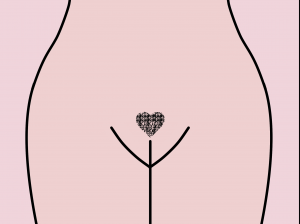 And last, but not least (though cutest and most difficult!) is the heart shape.  The heart is harder than the other styles because it requires symmetrical curved lines, which are not easy to make with a razor or with waxing strips.  But it is very cute, and will be greatly appreciated by anyone lucky enough to see it! It is also easier with a stencil.
[amazon_template template="1″ id="B001DYMK7S" ]
Those are all the pubic hair styles I have for you for now.  While there are plenty of other styles of there (arrows, diamonds, stars, etc.) these are some of the most common shapes.  Have you tried any of these, or something more exotic?  Share it with us in the comments!