Hey ladies, are you looking for something romantic to do for your man for Valentine's Day?  Flowers and chocolates are always nice to get, but most guys aren't too keen on floral arrangements and Godiva.  This year, why not surprise him with a new design from your lady garden?
If you, like many women, take a break from trimming your bush during the winter (or you are celebrating an extended No Shave November), your pubic hair is probably getting a bit unruly.  With no swimsuits or short skirts to worry about, there is less need to keep it trimmed and shaped.  However, your significant other may be missing the look and feel of your bare skin, and would greatly appreciate a Valentine's Day gift of a freshly shaved or waxed pubic area.  Here are some cute & romantic styles he is sure to enjoy.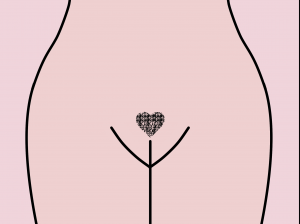 I featured the heart shape in my last post about pubic hair styles, and for good reason – it is cute, not too hard to make (especially with some good stencils), and sends a clear message to whoever sees it.  This is an especially great choice for Valentine's Day.  With all of the heart-shaped balloons & boxes of chocolates around during the season, he will definitely know that this heart is just for him.
[amazon_template template="1″ id="B001DYMK7S" ]
For bonus points, you can take the heart a step further and dye it pink.  Yep, they make hair dye specifically for pubic hair in all sorts of fun colors, like this Pink Fun Betty Hair Color
.  It's about as easy as dying the hair on your head, but he will be sure to notice this!
[amazon_template template="1″ id="B0072CWV8I" ]
Even if you don't have time to shave your pubic hair into a heart shape and dye it pink, you can still spend a few minutes and tend your lady garden so it's nice & neat for any romantic activities that may results from your Valentine's festivities.  It is a nice Valentine's Day gift for him, on February 14th and every other day of the year.